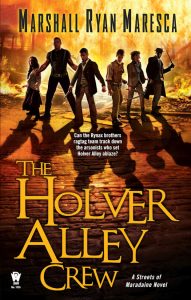 So, we've got a cover for the first Streets of Maradaine novel, The Holver Alley Crew, which is my fifth novel.
The Rynax brothers had gone legit after Asti Rynax's service in Druth Intelligence had shattered his nerves, and marriage and fatherhood convinced Verci Rynax to leave his life of thievery. They settled back in their old neighborhood in West Maradaine and bought themselves a shop, eager for a simple, honest life. Then the Holver Alley Fire incinerated their plans. With no home, no shop, and no honest income—and saddled with a looming debt—they fall back on their old skills and old friends.





With a crew of other fire victims, Asti and Verci plan a simple carriage heist, but the job spirals out of control as they learn that the fire was no accident. Lives in Holver Alley were destroyed out of a sadistic scheme to buy the land. Smoldering for revenge, burdened with Asti's crumbling sanity, the brothers and their crew of amateurs and washouts swear to take down those responsible for the fire, no matter the cost.





"Maresca bring the whole package, complete and well-constructed." ―Bibliosanctum





"The blend of fantasy and noir works wonderfully…with thrills and spills within a unique and well imagined world." ―Sci-Fi and Fantasy Reviews
This past week was crazy busy. In addition to just, you know, getting work done, I had two events-- one at Malvern Books, and one at Dragon's Lair. Both were good events, books were sold and signed. That's all you can ask for. I also participated in Dive Into Worldbuilding. There's video of the Malvern event, and like anyone watching themselves, I can figure out some of the things I need to work on in public presentation. I speak a little too quickly, especially when reading. This is a problem I know I have.* I'm going to keep working on it.
Because-- on every level in this business, there is room for improvement.
Speaking of, I've got some writing to do. Off to the word mines.
*-My poor mother-in-law, for whom English is a second language, never understands anything I say.