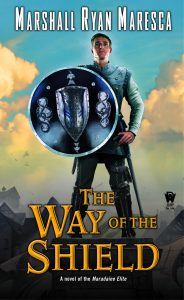 Talking about my current WIP is a bit odd, because it's the sequel to a book that you all haven't read yet. I mean, I could talk about my favorite bits in
THE SHIELD OF THE PEOPLE,
but it's lacking context for you.
One thing I am enjoying in this one-- and to a lesser degree this applies to
THE WAY OF THE SHIELD
as well-- is a different kind of antagonist. At least one of them. Namely, I have an antagonist whose goal is something that is a complete anathema to Dayne, but methods that are completely in sync with him. So Dayne doesn't respect what the antagonist wants to do, but deeply respects the way he's trying to go about it, and therefore the person doing it.
One of the things I like about this series is a lot of the characters are fundamentally good people who are trying to do good things-- but they each have a very different idea of what that means. That leads to, for me, fascinating situations of the lines between rebellion, revolution and lawlessness, and where those lines fall when, fundamentally, you believe in the system.
A lot of that is what
The Maradaine Elite
series is about.
That, and cool fight scenes. Always cool fight scenes.