Today is the day for The Assassins of Consequence!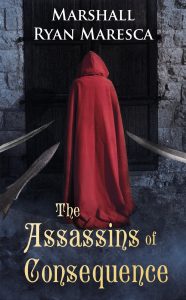 As I mentioned before, this book is being released as e-book only, which is a shame, but hopefully in the future there will be physical versions as well. But you can get a hold of it right now to find out what happens next to Veranix and his friends.
This was an excellent natural continuation of Veranix's tale after the events of the first Maradaine story arc. Plenty of action, so many heartfelt moments, and the resolution to several major plot points made for a very satisfying read. -Powder and Page
So, don't dally! Get your hands on it!
And then get ready for the next Maradaine Phase Two installment: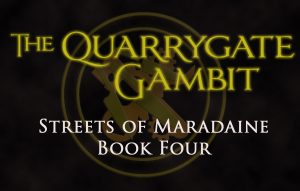 And after that? I'm still keeping a tight lid on that for now, but not for too much longer!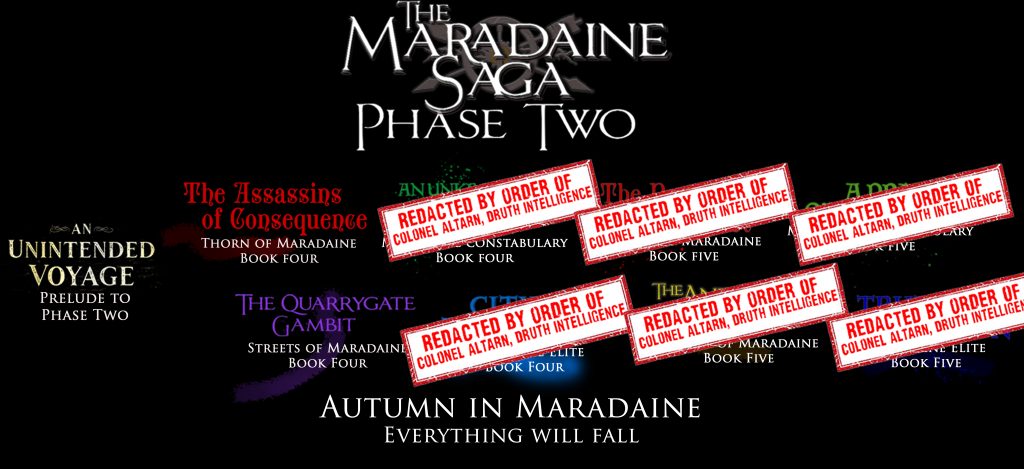 But, for now, I hope you all enjoy The Assassins of Consequence, and are looking for more news to come.
The autumn semester at the University of Maradaine is underway, and Veranix Calbert is doing his best to balance the new responsibilities of being a fourth-year magic student under the militant Altarn Initiatives, while still acting as The Thorn, the street vigilante deep in a personal war against the drug kingpin Willem Fenmere. With the help of his friends Kaiana, Delmin, and Mila, he's been able to strike real blows against Fenmere's empire.

But Veranix's fight has earned him more enemies than just Fenmere, including the mad alchemist Cuse Jensett, the imposters Erno Don and Enzin Hence, and the Deadly Birds Magpie and Jackdaw. These five killers join forces to escape Quarrygate Prison and offer an alliance to Fenmere, bringing with them the perfect leverage to seal the deal: the Thorn's identity.

Once Fenmere knows who Veranix is, he doesn't just want to kill him, but to utterly shatter him. Calling on everyone in Maradaine holding a grudge against the Thorn, he unleashes a brutal hunt against Veranix. With old and new enemies all looking to claim the bounty on his head, stripped of the security of his secret identity, Veranix faces the most brutal fight of his all too-short life.
Amazon | Barnes & Noble | PRH | Goodreads