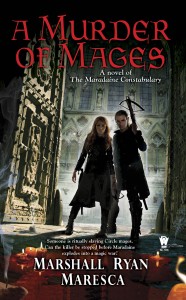 This is it, people:
A MURDER OF MAGES
comes out tomorrow. Which means this is your last chance to pre-order it.*
I've been quite pleased by the growing reviewer buzz for this book, and I'm really excited to see this go out into the world.
Here's a few more review highlights:
"The presence of the city, a dark, grimy, lively place, invades the reader by degrees. It's not a place that leaps off of every page – but rather, one that seeps into your fingers as you turn those pages."
"Maresca's novels are certainly getting attention from fantasy readers, and I'd say it's well-deserved. Quick reads, good action, and just generally very fun books to have around. I'm already a fan of both branches of Maradaine novels, and I'm looking forward to what new fun stories he'll tell in that world in the future."
"Interesting characters, intricate worldbuilding, and a mystery that kept me hooked? Count me in for the sequel. It can't come soon enough."
"Without hesitations, I would say that A Murder of Mages deserves 5 out of 5 stars!"
So have at it. And if you're in the Austin area, come to BookPeople on Thursday, July 9th at 7PM. I'll be reading and signing and answering questions. And speaking of answering questions, I'm doing a Q&A on BookCountry this week.
Have at it
.
And, of course, if you want to read an excerpt, there's one
here
.
All right, too much excitement. Book is out, I need to finish the next one.
--
*- Because after today, you'll just be ordering it.