This July continues to be extraordinarily busy, so here is an updated toolbox for All Things Worldbuilding.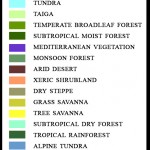 Groundwork: Geography, biomes and ecology.
My original post on biomes
Domesticatible plants and animals
Creating new fauna, especially domesticatible ones
Hope you can find this useful. I hope to put this stuff together into a single document in the near future. Possibly so I can have handouts at panels. Handouts would make me look extra prepared, no?