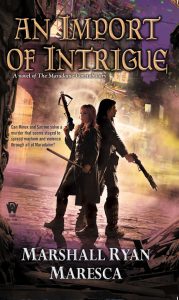 So,
An Import of Intrigue
comes out in six weeks, give or take a day. And in addition to the anticipatory posts like
here
and
here
, there's already been some ratings and reviews.
"I went into the sequel with reasonably high expectations. In short, this sequel matched my expectations, and more."
That's from Chris Meadows at
SF&F Reviews
, and that is a lovely start to the reception for
Import
. I know some writers say they can't read reviews or don't care, but I personally think it's important, especially early on, to gird yourself toward how things will go. The initial responses have me optimistic that it's going to be a very well received book, especially by fans of
A Murder of Mages.
And if you haven't read A Murder of Mages, well, here's your chance to get on that before Import comes out. And, of course, pre-order Import.
We've got a relatively exciting plan for the release of Import, including quite an extensive blog tour. So keep your ear to the ground.