Folks, I had a lovely time at OryCon, and Portland is a wonderful city— wish I had a chance to do more while I was there, but my schedule for the Con meant I had to keep my focus on that.
Maybe another time.
I was fortunate that some old friends played hosts-in-absentia, letting me stay at their home even though they were away, and that made the whole experience far more personal.
(I don't sleep all that well in hotels, and I slept great in their home.)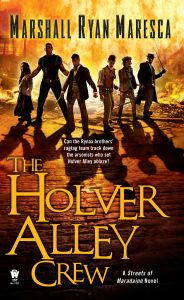 And now, it's time to really start taking a look at
Lady Henterman's Wardrobe
, which comes out on March 6th.
This is, of course, the second
Streets of Maradaine
novel, following up on the first one,
The Holver Alley Crew
.
Let's take a look at our team:
The Planner:

Asti Rynax, former intelligence officer, forcibly retired.

The one who can figure out all the angles and put together a plan so crazy that no one will see coming.

Deadlier with an apple and a lockpick than most people are with a pair of knives.
The Burglar: Verci Rynax, Asti's brother.

Gadget-maker, window-cracker, and the only one who can keep Asti grounded.
The Sharpshooter: Helene Kesser, best crossbow shot in all West Maradaine, with a mouth as sharp as her aim.
The Muscle: Julien Kesser, Helene's cousin.

Strong as an ox, but not allowed to fight, or you'll answer to Helene.

Loves cheese.
The Driver: Kennith Rill, carriage driver, master builder.
The Eyes on the Ground: Mila Kentish.

Teenage beggar girl that no one notices until after their purse is already gone.
The Old Lady: Josie Holt, the fallen boss of North Seleth, who may only have this crew left as the people she can trust.
It was an absolute joy to write this team again, especially to put them through a whole new set of wringers after the events of Holver Alley.
You
have
read
Holver Alley Crew
, yes?
If not, I'll let Powder and Page convince you:
The final verdict: You've GOT to read this book! You can jump into the world of Maradaine starting with this book or with A Murder of Mages or The Thorn of Dentonhill without feeling lost or that you're missing out on anything. This book is my favorite to date, though not by much, as everything by MRM is of the highest caliber and I would recommend them without reservation.
So go get your hands on that, and then pre-order
Lady Henterman's Wardrobe.
And get yourself ready, because some further Maradaine announcements are coming up.
---
Blending high fantasy, crime fiction and daring heists, the Streets of Maradaine features Asti and Verci Rynax, two former thieves who tried to go straight, but dragged through the ashes of tragedy back into their old life.
"While Maresca has been building the Maradaine universe across multiple books and connected series,
The Holver Alley Crew
marks a new chapter in the city's story, and a great entry point for new readers." –
Barnes & Noble Fantasy Blog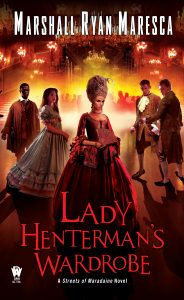 LADY HENTERMAN'S WARDROBE
Forthcoming March 2018

Mixing high fantasy and urban fantasy, the second novel of the Streets of Maradaine series follows the Rynax brothers' crew of outlaws as they attempt their biggest heist yet and restore justice to the common people.

The neighborhood of North Seleth has suffered–and not just the Holver Alley Fire. Poverty and marginalization are forcing people out of the neighborhood, and violence on the streets is getting worse. Only the Rynax brothers–Asti and Verci–and their Holver Alley Crew are fighting for the common people. They've taken care of the people who actually burned down Holver Alley, but they're still looking for the moneyed interests behind the fire.

The trail of breadcrumbs leads the crew to Lord Henterman, and they plan to infiltrate the noble's house on the other side of the city. While the crew tries to penetrate the heart of the house, the worst elements of North Seleth seem to be uniting under a mysterious new leader. With the crew's attention divided, Asti discovers that the secrets behind the fire, including ones from his past, might be found in Lady Henterman's wardrobe.


Goodreads Page
for
LADY HENTERMAN'S WARDROBE
Available at Amazon and more!