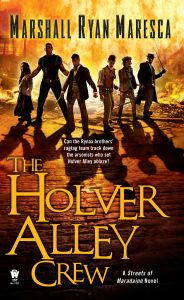 With the release of
Lady Henterman's Wardrobe
just a few weeks away, you still have time to read
The Holver Alley Crew
so you are up to speed when
Lady Henterman
comes out. And why wouldn't you want to fall in love with Asti & Verci Rynax, and the rest of the crew?
Look what people said about it:
From the
Bibliosanctum
:
Certainly, fans of caper stories should be making The Holver Alley Crew their number one priority. A strong start right out of the gate, this series opener is a well-written and brilliantly executed example of the fantasy heist genre, and of all the novels written by Marshall Ryan Maresca so far, this might be my favorite one yet! The Rynax brothers and their crew are so good at their jobs that they will steal your heart from the very first page, and I simply can't wait to see what the gang will be up to next.
From
The Speculative Herald
:
Maresca crafted a fresh and thrilling heist story that moves at a great pace. This is the type of book you just feel the need to read cover to cover, looking/wishing for the pause button on real life until you finish.
From
JBrondar Book Reviews
:
This is my first book from Marshall Ryan Maresca and I loved it. I can't wait to see what happens in the next books in the series. I will be on the lookout for Maresca's other books too.
From
SF AND F REVIEWS
:
There's some fantastic planning scenes, as the team pieces together exactly what they're going to do and when. Then there's the tension of the job, and this is something which is brought out to perfection – each action is watchmaker-precise, and each failure can lead to a cascade of other failures – watching the team anticipate and deal with these (or not) is agonizing and wonderful.
And from
POWDER AND PAGE
:
The neighborhood of North Seleth and Holver Alley are well-written and thoroughly described environments that I could visualize being in any city. The alley is a close-knit community where the neighbors help each other out and everybody knows everybody else. The reader gets to be immersed in this little segment of Maradaine- bars, churches, sewers, the chemist shop, a bakery… you name it. This whole world has depth equivalent to the most well-known and loved fantasy works on offer. The final verdict: You've GOT to read this book!
---
Mixing high fantasy and urban fantasy, The Holver Alley Crew is the first novel of Maresca's third interconnected series set in the fantasy city of Maradaine.
The Rynax brothers had gone legit after Asti Rynax's service in Druth Intelligence had shattered his nerves, and marriage and fatherhood convinced Verci Rynax to leave his life of thievery. They settled back in their old neighborhood in West Maradaine and bought themselves a shop, eager for a simple, honest life. Then the Holver Alley Fire incinerated their plans. With no home, no shop, and no honest income—and saddled with a looming debt—they fall back on their old skills and old friends.
With a crew of other fire victims, Asti and Verci plan a simple carriage heist, but the job spirals out of control as they learn that the fire was no accident. Lives in Holver Alley were destroyed out of a sadistic scheme to buy the land. Smoldering for revenge, burdened with Asti's crumbling sanity, the brothers lead their crew of amateurs and washouts to take down those responsible for the fire, no matter the cost.
READ AN EXCERPT
Goodreads Page
for
THE HOLVER ALLEY CREW
Available at Amazon, Barnes & Noble, and more!