There is something about a hero with a shield.
There is something about a hero who strives to not just protect people, but to be a beacon, a symbol, a source of hope for those around them.
When I was figuring out the four different story paths we would see in Maradaine, I know one of them was going to have be something of a "classic" hero-- that big boy scout of a hero that is the heart of and spirit of what the best of Maradaine and Druthal could be. A person who not only understood the ideals, but tried to live by them-- even if they stumble.
They needed to be a character that embodied hope and light, even as things went dark around them.
That's what a hero who carries a shield means. That's why Dayne is part of the Tarian Order, who pledge to put themselves between the helpless and harm. And that's what I wanted the cover of the first book of this new series to evoke. And did Paul Young deliver.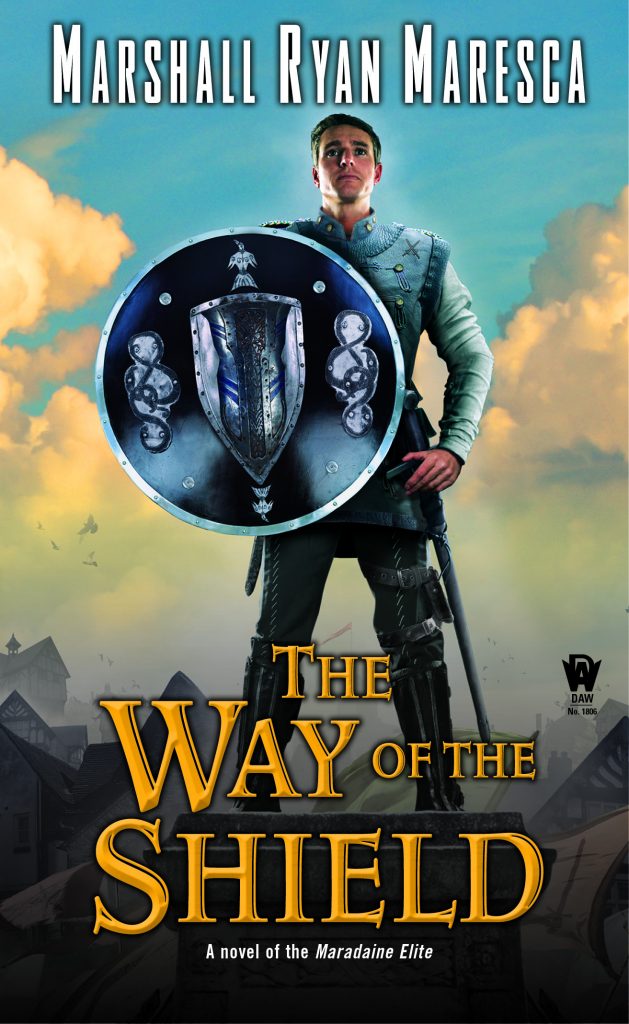 The Way of the Shield
comes out on October 2, 2018.
---
Dayne Heldrin always dreamed of being a member of the Tarian Order. In centuries past, the Elite Orders of Druthal were warriors that stood for order, justice, and the common people. But now, with constables, King's Marshals, and a standing army, there is little need for such organizations, and the Tarian Order is one of the last remnants of this ancient legacy. Nevertheless, Dayne trained his body and mind, learned the arts of defense and fighting, to become a candidate for the Tarian Order.
When a failed rescue puts Dayne at fault for injuring the child of a powerful family, his future with the Tarians is in jeopardy. The Parliament controls the purse strings for the Order, and Dayne has angered the wrong members of Parliament. He returns to the capital city of Maradaine in shame, ready to be cast out of the Order when the period of his candidacy ends.
Dayne finds Maradaine in turmoil, as revolutions and dark conspiracies brew around him, threatening members of Parliament and common people alike. Dayne is drawn into the uproar, desperate not to have one more death or injury on his conscience, but the Order wants him to stay out of the situation. The city threatens to tear itself apart, and Dayne must decide between his own future and his vow to always stand between the helpless and harm.
Goodreads Page for THE WAY OF THE SHIELD
Available at Amazon, Barnes & Noble, IndieBound and more!