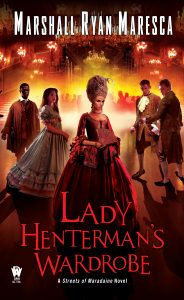 We're finally here at the launch week for
LADY HENTERMAN'S WARDROBE--
the second
Streets of Maradaine
novel and the seventh novel total in the full Maradaine sequence.* I'm thrilled and excited, as always. I really love this book-- but of course, I love all of them. But it was a lot of fun to write, as I loved getting back to writing Asti and Verci Rynax and all their friends. I wouldn't say they're my favorite characters to write-- because how can you decide something like that-- but I do love writing them talking to each other.**
And I'm thrilled with the response the book has been getting.
RT Reviews
calls it a Top Pick with
. IO9 named it one of the books "
Well Worth Checking Out
" this month, and Barnes & Noble SF&F Blog listed it among
the best fantasy books
for the month.
Publishers Weekly
said it features "a complete and consistent fantasy world populated with lively characters". The
Speculative Herald
says, "I'm happy to report that this follow up is just as exciting and fun as the last one", and
SF&F Reviews
says, "This is kick-arse fantasy."
So what are you waiting for?
---
Mixing high fantasy and urban fantasy, the second novel of the Streets of Maradaine series follows the Rynax brothers' crew of outlaws as they attempt their biggest heist yet and restore justice to the common people.

The neighborhood of North Seleth has suffered–and not just the Holver Alley Fire. Poverty and marginalization are forcing people out of the neighborhood, and violence on the streets is getting worse. Only the Rynax brothers–Asti and Verci–and their Holver Alley Crew are fighting for the common people. They've taken care of the people who actually burned down Holver Alley, but they're still looking for the moneyed interests behind the fire.

The trail of breadcrumbs leads the crew to Lord Henterman, and they plan to infiltrate the noble's house on the other side of the city. While the crew tries to penetrate the heart of the house, the worst elements of North Seleth seem to be uniting under a mysterious new leader. With the crew's attention divided, Asti discovers that the secrets behind the fire, including ones from his past, might be found in Lady Henterman's wardrobe.
READ AN EXCERPT
Goodreads Page
for
LADY HENTERMAN'S WARDROBE
Available at Amazon , Barnes & Nobles, IndieBound and more!
---
*- Funny thing, you could list the full Maradaine sequence two ways: release order, or in-world chronological. Lady Henterman's Wardrobe is the seventh book by either metric.
**- And I'm excited to get back to writing them, and Veranix, and all three of them together, when I get started on the third Streets novel, The Fenmere Job.