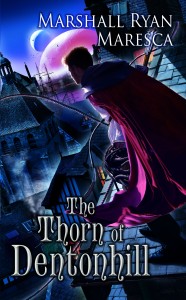 I've been talking in vague terms about the sequels to
The Thorn of Dentonhill
and
A Murder of Mages
. But now, finally, I can say that DAW will be publishing both sequels. Two more adventures in the heart of Maradaine!
The sequel to Thorn is THE ALCHEMY OF CHAOS.
A dangerous prankster. A trio of assassins. And a legend to live up to.
A foreign merchant-prince murdered. A neighborhood full of suspects. A few city blocks threatening to erupt into world war unless the constabulary solves the case.
As of right now, I don't have exact release dates, but I anticipate The Alchemy of Chaoscoming out in spring 2016, and An Import of Intrigue in late summer or early fall.