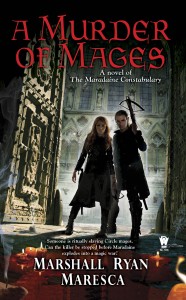 Reviews are starting to come in for
A Murder Of Mages
, which I'm very excited about.
I love a well done classic fantasy, particularly when it's combined with my other love, mystery. A Murder of Mages, Maresca's debut Maradaine Constabulary novel, does just that.
I quite enjoyed Satrine. She was a badass and did what she had to in order to survive and provide for her family. I am looking forward to seeing more of her quick wit in action because she was a treat to read about.
Finally, Rashika at
The Social Potato
enjoyed it, but she wanted to see more of the world beyond the narrow scope of the Constabulary. Fortunately, that seems to be inspiring her to check out
The Thorn of Dentonhill
.
I just realized that there is another series set in the same world and the first book just came out this year… I GUESS I HAVE SOME READING TO DO.
---
Also, next weekend is
ApolloCon
. Here's what I'm doing:
SATURDAY, 12 noon: That Old (Black?) Magic
Discussion of what makes magic believable and examples of magic systems that work well or don't.
SATURDAY, 1pm: What If We Really Are Alone?
Maybe the reason SETI hasn't found any signs of intelligent life is that there's nobody else out there.
SUNDAY, 11:30am: Reading
I'll be breaking out a selection from A Murder of Mages, so you'll want to check it out.
SUNDAY, 1pm: What I'd Like to Read (But I Won't Write)
Writers discuss what they'd like to read but aren't going to write.
SUNDAY, 2pm:

Qa'Pla To You Too, Buddy!
From "Nanu Nanu" to "Valar Morghulis" geekdom has always spoken a language all its own. Where does our love for constructed languages come from, what distinguishes a true conlang form a random colleciton of syllables—and which are the best of the best?
--
Come on up and say hi. I'll gladly autograph anything with my name on it that you shove in my hands.