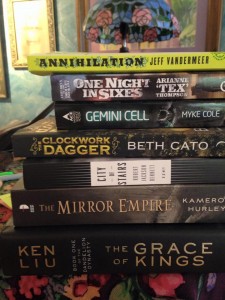 I have to confess, I tend to be a slow reader. Especially right now, where I have a fair amount of projects and deadlines on my plate. I usually don't get much chance to sit and read until the very end of the day-- and then it's
maybe
read a chapter. Usually less. So it takes me a while to get through a book, especially a big door stopper.
I've got two books that I currently consider myself to be "reading right now":
The Grace of Kings
by Ken Liu and
The Clockwork Dagger
by Beth Cato, though I'll cop most of my reading attention is on the latter.
Grace
might be on hold until I can devote serious brainspace to it. But I'm enjoying both.
My remaining To Be Read pile isn't big, but given my reading speed it's as much commitment as I can handle right now.
A brief bullet list:
One Night In Sixes by Tex Thompson
Annihilation by Jeff Vandermeer
Gemini Cell by Myke Cole
City of Stairs by Robert Jackson Bennett
The Mirror Empire by Kameron Hurley
And on my "books I intend to get and put on the TBR pile soon" list:
Dreams of Shreds and Tatters by Amanda Downum
Cold Iron by Stina Leicht
The Traitor Baru Cormorant by Seth Dickinson
Time Salvager by Wesley Chu
And that should keep me plenty busy for the near future.