I've talked, perhaps at length, at the importance of learning one's own strengths and methods as a writer. Part of the key to figuring out how you write is recognizing your bad habits, and learning how to make them work for you.
My bad one? I get obsessed with a need for visual reference. I feel like I can't possibly write the next bit or project unless I first have a map, or first find perfect headshots of people who look like the characters do in my head, or find that perfect image of a woman wielding a halberd that fits exactly what I would hypothetically want a cover to look like. The last is especially frustrating, because it requires that some artist out there has already had a vision that matches my own.
Plus, I have minimal artistic skills. I can do the maps-- all the maps in the Maradaine books are my own work-- and I'm all right with photoshop in general. But I can't take a reference photo and turn into the thing in my head I want it to be. Every one in a while, I get this bug that maybe I could, if I just try one more time.
But, no. It's terrible. No, I'm not going to share the terrible. Because you don't deserve that. I've reached the point where I can make some that, while terrible, is just enough to quell the need in my brain for it to exist so I can focus on the writing. And then I'll use that in some way as part of how I work.
Because writing isn't an algebra exam; there's no need to show your work.*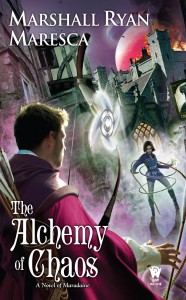 However, if you want to see my work,
The Alchemy of Chaos
comes out in just five days. It's magicky and sciencey and the same time, with tons of action and assassins and street fights and fancy dinners, and our hero The Thorn doing what he does best: making stupid choices for noble reasons.
--
*- I was terrible about that in high school math. I would get answers like boom and just write "X=7" and the teacher would be all, 'you didn't show your work' and I'd be, "But it's right" and drop the mike and then have to stay afterschool because teachers don't like it when you do that.