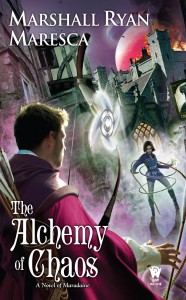 All right, time to admit something: I thought
this
would be easier this time around. I mean, I've done the Book Release thing twice, so this run-up to release day should be old hat by now, right?
One thing I realized, looking back at the run-up to The Thorn of Dentonhill is how I avoided the S-word. I referred to Veranix as a "magic-student by day, vigilante by night", but I didn't really say "superhero".
But let's be honest, in the terms of Maradaine street-level fantasy, that's exactly what The Thorn is. Which makes sense-- superheroes and fantasy are definitively linked.*
But I had to come to terms with that as Veranix's story. The Thorn of Dentonhill was very much about Veranix going from being an angry kid with power to being "The Thorn". The Alchemy of Chaos is the next step in that journey-- Veranix coming to terms with what being the Thorn needs to mean.
Or to put it in another hero's terms:
In Thorn he realized he had great power.
In Alchemy he learns about great responsibility.
Veranix Calbert is The Thorn—the street vigilante-turned-legend—and a danger to Willem Fenmere, the drug kingpin of Dentonhill. Veranix is determined to stop Fenmere and the effitte drug trade, especially when he discovers that Fenmere is planning on using the Red Rabbits gang in his neighborhood. But Veranix is also a magic student at the University of Maradaine, and it's exam week. With his academic career riding on his performance, there's no time to go after Fenmere or the Red Rabbits. But when a series of pranks on campus grow deadly, it's clear that someone has a vendetta against the university, and Veranix may be the only one who can stop them...
--
*- Which is why guys like Green Arrow and Hawkeye exist.