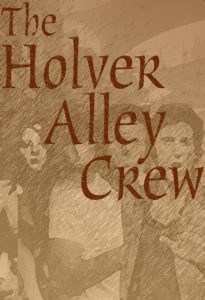 So, what's The Holver Alley Crew all about?
The Rynax brothers had gone legit. Service in Druth Intelligence had shattered Asti Rynax's nerves. Marriage and fatherhood convinced Verci Rynax to leave his life of thievery. They settled back in their old neighborhood in West Maradaine and bought themselves a shop, eager for a simple, honest life. Then the Holver Alley Fire incinerated their plans. No home, no shop, no honest income, and saddled with a looming debt, they fall back on their old skills and old friends.
With a crew of other fire victims, Asti and Verci plan a simple carriage heist, but the job spirals out of control as they learn that the fire was no accident. Lives in Holver Alley were destroyed out of a sadistic scheme to buy the land. Smoldering for revenge, burdened with Asti's crumbling sanity, the brothers lead their crew of amateurs and washouts to take down those responsible for the fire, no matter the cost.
I've included some scratch art I did as part of my process. Do not think this represents the actual cover art in any way. This is just me playing with Photoshop. Hopefully, in a few months, we'll be seeing another Paul Young cover that will do fantastic justice to this book.
So, mark your calendars: March 7th, 2017. Holver Alley Crew.
---