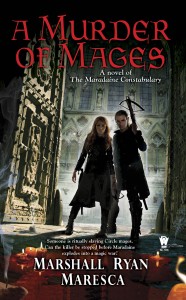 We're now five months away from the release of
An Import of Intrigue
, the second book of the Maradaine Constabulary books. Which means this is the perfect time for you to add the first book,
A Murder of Mages
to your To Be Read list, yes? You want to be caught up so you will be ready to pick up
An Import of Intrigue
in November.
Some of of the reviews for A Murder of Mages:
"The presence of the city, a dark, grimy, lively place, invades the reader by degrees. It's not a place that leaps off of every page – but rather, one that seeps into your fingers as you turn those pages."
"Maresca's novels are certainly getting attention from fantasy readers, and I'd say it's well-deserved. Quick reads, good action, and just generally very fun books to have around. I'm already a fan of both branches of Maradaine novels, and I'm looking forward to what new fun stories he'll tell in that world in the future."
"Fast-moving and addictive."
"Without hesitations, I would say that A Murder of Mages deserves 5 out of 5 stars!"
"Interesting characters, intricate worldbuilding, and a mystery that kept me hooked? Count me in for the sequel. It can't come soon enough."
I really enjoyed writing Satrine and Minox in A Murder of Mages, so I was thrilled to have the chance to continue their story with An Import of Intrigue.
So, what happens in An Import of Intrigue?
The neighborhood of the Little East is a collision of cultures, languages, and traditions, hidden away in the city of Maradaine. A set of streets to be avoided or ignored. When a foreign dignitary is murdered, solving the crime falls to the most unpopular inspectors in the Maradaine Constabulary: exposed fraud Satrine Rainey, and uncircled mage Minox Welling. With a murder scene deliberately constructed to point blame toward the Little East, Rainey is forced to confront her former life, while Welling's ignorance of his own power threatens to consume him. And these few city blocks threaten to erupt into citywide war unless the constabulary solves the case.
Also, while I can't share the cover for An Import of Intrigue yet, I have seen it, and: Paul Young has done right by me again.
I'm really thrilled with both books in this series, and I'm equally excited with how the third Constabulary novel, A Parliament of Bodies is coming along. I am so happy that I get to share with my readers the different facets of the city of Maradaine.