This weekend I was at the Writers' League of Texas conference, and it's become clear to me that I almost need a flowchart to explain the details about my books. This is the burden of having three series working at once. There are worse fates.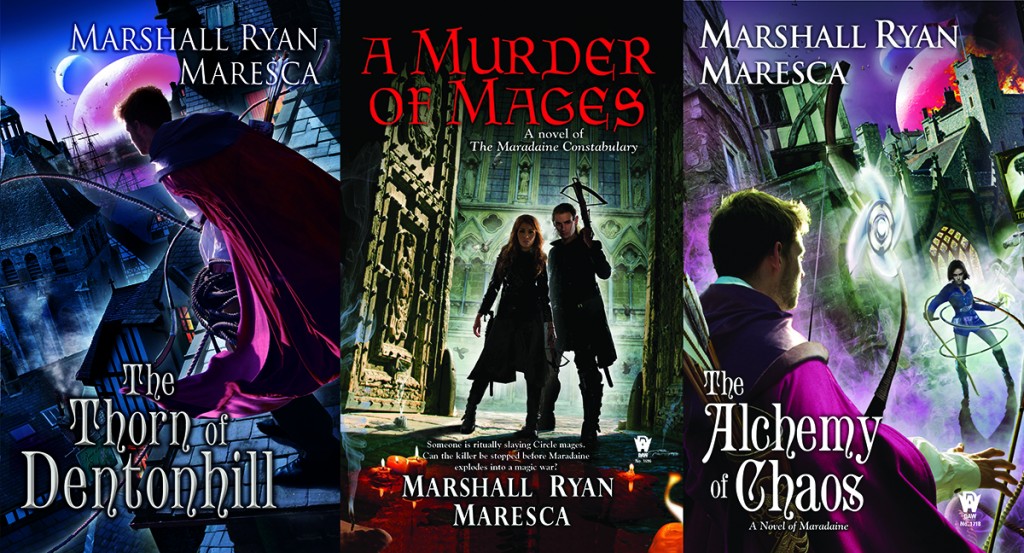 So: The Maradaine novels are all set in the same city. Maradaine - the grand port city, the capitol of Druthal. A city of power, of magic, of crime and intrigue, from the highest levels of authority in the palace and Parliament, to the lowest dregs in Quarrygate prison. It is a city where old ways of mysticism and tradition are giving way to modern culture, methods and technology.
The Thorn Series
The Thorn books follow Veranix: magic student at the University of Maradaine by day, street vigilante by night. He fights his personal vendetta against the drug trade in the working-class neighborhoods of Aventil and Dentonhill. Between the Aventil street gangs, the university prefects and the drug lord's assassins, Veranix struggles to keep himself in school and alive.
The Constabulary Series
The Constabulary books follow Inspectors Satrine Rainey and Minox Welling, inspectors in the city constabulary in the central neighborhood of Inemar, both outcasts in their own way. With their troubled pasts and uncertain futures, these two unorthodox inspectors have to solve the most volatile murder cases in the city.
The Hovler Alley Series
On the poor west side of Maradaine, in the run-down-but-proud neighborhood of North Seleth, we find the Rynax Brothers: a broken spy and a reformed thief. Their attempt to live clean, honest lives is thwarted by a fire that destroys their home and shop. Their future ruined, they have only their skills from their pasts to fall back on.
Further Maradaine Series?
I have a fourth Maradaine series planned, the first book is tentatively titled The Way of the Shield. That's still in the works, so I can't talk about it as something that is definitively coming out. And I also have a few novellas planned, and a plan for all three series beyond what's announced.
Maradaine Books In Release Order