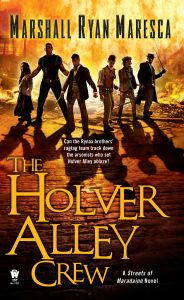 This week is the release of THE HOLVER ALLEY CREW! That means we've got reviews and guest blogs all over the place, and it is time to get that pre-order in while you still can. (Because after tomorrow, it's just ordering.) And as of right now, it's being sold at a 19% discount at Amazon. Why 19%? I have no idea, but run with it.
RUN AND GET THIS BOOK AND GET IT INSIDE YOUR BRAIN.
Here's some of the stuff out there people are saying about it. Also there's guest blogs from me about it, excerpts, all sorts of things.
SCI-FI CHICK has a giveaway and an guest blog on my influences.
---
Mixing high fantasy and urban fantasy, The Holver Alley Crew is the first novel of Maresca's third interconnected series set in the fantasy city of Maradaine.
The Rynax brothers had gone legit after Asti Rynax's service in Druth Intelligence had shattered his nerves, and marriage and fatherhood convinced Verci Rynax to leave his life of thievery. They settled back in their old neighborhood in West Maradaine and bought themselves a shop, eager for a simple, honest life. Then the Holver Alley Fire incinerated their plans. With no home, no shop, and no honest income—and saddled with a looming debt—they fall back on their old skills and old friends.
With a crew of other fire victims, Asti and Verci plan a simple carriage heist, but the job spirals out of control as they learn that the fire was no accident. Lives in Holver Alley were destroyed out of a sadistic scheme to buy the land. Smoldering for revenge, burdened with Asti's crumbling sanity, the brothers lead their crew of amateurs and washouts to take down those responsible for the fire, no matter the cost.