I've come back from FenCon, where I had a wonderful time, despite a few minor glitches (highway traffic making me a few minutes late for my first panel, sound-pollution disrupting another panel). I always enjoy FenCon a lot, and seeing the usual crew of Dallas/Forth Worth/greater Texas writers. Plus I got to visit with some other old friends who used to live in Austin (who were kind enough to offer their hospitality to me for the trip, for which I am ever so grateful.)
I would love to just fall down and leave this blog post at that, BUT...
The Imposters of Aventil
will be released in a mere eight days. It's funny, because I said a while ago I commented on how the New Release thing would never get old, and while it doesn't... it's no longer this momentous event of panic. I know the steps to this dance now. But it means I've got to write some guest posts and a few other things to get my ducks in a row for the release.
But, in the mean time, you can still pre-order
The Imposters of Aventil
, the book the Tenacious Reader says, "
carries forward with the fun and excitement I've come to expect from the Maradaine series
" and SF&F Reviews calls "
a sharply observed investigative thriller in a mature and well crafted fantasy world
".
---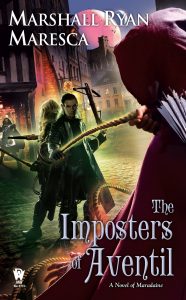 THE IMPOSTERS OF AVENTIL
Forthcoming October 2017
Summer and the Grand Tournament of High Colleges have come to the University of Maradaine. If the heat and the crowds weren't enough to bring the campus and the neighborhood of Aventil to a boiling point, rumors that The Thorn is on the warpath—killing the last of the Red Rabbits—is enough to tip all of Maradaine into the fire.
Except Veranix Calbert, magic student at the University, is The Thorn, and he's not the one viciously hunting the Red Rabbits. Veranix has his hands full with his share of responsibilities for the Tournament, and as The Thorn he's been trying to find the source of the mind-destroying effitte being sold on campus. He's as confused as anyone about the rumors.
When The Thorn imposter publicly attacks the local Aventil constables, the Constabulary bring in their own special investigators: Inspectors Minox Welling and Satrine Rainey from the Maradaine Grand Inspectors Unit. Can Veranix find out who the imposter is and stop him before Welling and Rainey arrest him for the imposter's crimes?