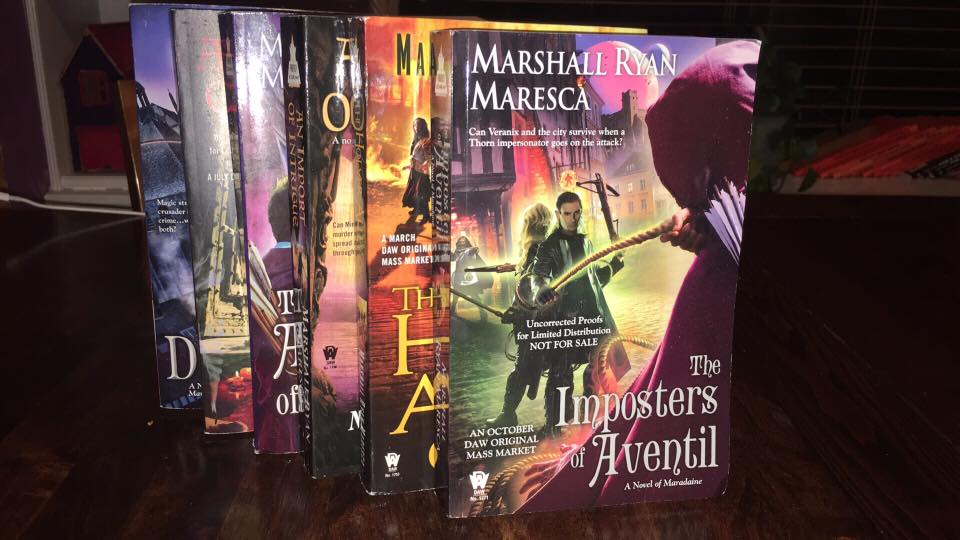 Sometimes I'm just amazed at the speed things have gone with my writing career. A few months ago, I was interviewed by the
Austin Chronicle
(with a whole lot of other great Austin SFF writers), and the interviewer, who's known me from the playwriting days, said, "All of a sudden, you have all these books!" And while, for me, this has been a long challenging road, now that it's fully underway, it feels a freight train.
I mean that in the best possible way.
So now here we are with
THE IMPOSTERS OF AVENTIL
, the third Novel of Maradaine, and the sixth book of the Maradaine Sequence. A whole lot of time, energy and planning went into all of these books, setting up the dominoes, and now we're getting to the first big payoff, where the Thorn meets the Maradaine Constabulary. Putting Minox and Satrine in the same book as Veranix was a thrill to write.
IMPOSTERS
also marks the midway point of what will, hopefully be Phase I of the Maradaine Sequence. After this, of course, we've got
Lady Henterman's Wardrobe
coming up in March, and
A Parliament of Bodies
later next year, and then the next four books I have planned, which I hope to be telling you more about in the near future.
Until then, though, there's still time to catch up on the
Maradaine
and
Maradaine Constabulary
books, and pre-order
The Imposters of Aventil
, so you're ready to jump in when it comes out next month.
---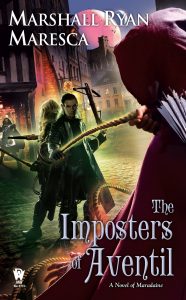 Summer and the Grand Tournament of High Colleges have come to the University of Maradaine. If the heat and the crowds weren't enough to bring the campus and the neighborhood of Aventil to a boiling point, rumors that The Thorn is on the warpath—killing the last of the Red Rabbits—is enough to tip all of Maradaine into the fire.
Except Veranix Calbert, magic student at the University, is The Thorn, and he's not the one viciously hunting the Red Rabbits. Veranix has his hands full with his share of responsibilities for the Tournament, and as The Thorn he's been trying to find the source of the mind-destroying effitte being sold on campus. He's as confused as anyone about the rumors.
When The Thorn imposter publicly attacks the local Aventil constables, the Constabulary bring in their own special investigators: Inspectors Minox Welling and Satrine Rainey from the Maradaine Grand Inspectors Unit. Can Veranix find out who the imposter is and stop him before Welling and Rainey arrest him for the imposter's crimes?