Oh, I'm gonna get it for this one. My sister is gonna be cross with me.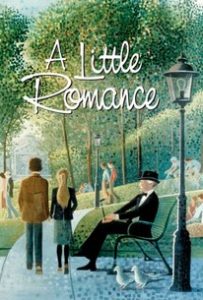 See, there are basically two types of people in this world: most people, who have probably barely heard of this movie, and my sister and I, who saw it OVER AND OVER AGAIN.
It was made in 1979, and was Diane Lane's film debut at the tender age of 14, and oh lord was it a product of its time. You couldn't make a movie like this now. OK, you could, but it would be a fiercely independent thing that no studio would touch, and it might possibly involve child endangerment indictments. Or, OK, it would be
Moonrise Kingdom.
But that was filled with whimsy and wonder and childlike innocence, and this has porn movies and tit-and-dick jokes and someone screaming "RICHARD, GET IN HERE, THEY'VE BEEN HAVING AN ORGY!" in regards to 14-year-olds. My point is, it was a different time, and you wouldn't get something like this today.
You certainly wouldn't get the greatest actor of his generation, and a director with two of the greatest movies of all time already under his belt.
For real, George Roy Hill directed
Butch Cassidy and the Sundance Kid
AND
The Sting
and on top of that has quite a few other notable films like
The World According to Garp
and
Thoroughly Modern Millie
and this film, which is really strange outlier on his resume.
OK, no, the real outlier is his last film, the deeply unfunny Chevy Chase vehicle
Funny Farm,
where Chevy eats sheep testicles and fails to write a novel. Hill tapped out after that one.
But this is a strange movie, about a horny French intellectual kid who pervs on an American girl and then teams up with an old pickpocket to win horse races and then commit an international kidnapping.
I LITERALLY MADE NONE OF THAT UP.
OK, so, Daniel (Thelonious Bernard, in his debut and penultimate film) is a French kid who, at 14, thinks he's way smarter than he actually is. He's that kid who reads philosophy texts and quotes shit back and is genuinely pretty smart, but has no one in his life to call him on his bullshit. He meets, Lauren, an American girl living in France, played by 14-year-old Diane Lane. They immediately hit it off, since she's reading Heidigger so they can both be pretentious together.
So much of this movie is focused on fawning over Diane Lane as this great beauty, including Daniel's French friend, who is obsessed with tits, commenting on Lauren's. And I remind you: Diane Lane. Was 14.
(Has Diane Lane dropped any #MeToo on the world yet? I'm certain she's got some stories that would turn your hair white.)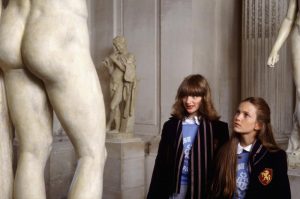 So we spend some time where Lauren and her friend Natalie (Natalie IS AMAZING and some great hero has credited all of her lines on IMDB to "Natalie Woodstein, Lauren's Dorky Friend". Ashby Semple never made another movie, which might be an actual crime against humanity. But she's a theater professor, so it's not like she tapped out of acting altogether.) hang out in Paris with Daniel and his pervy friend. DO NATALIE AND THE PERVY FRIEND HOOK UP? Yes, of course they do. But that's not the story that matters. Which is a shame, because, for real, those two are the magic.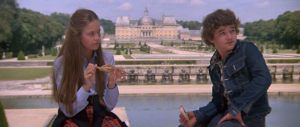 Anyway, Lauren and Daniel hang out a lot and start having, well, look at the title. They do what kids do: go to the Louvre, sneak into porn movies, chat with pickpockets and develop a system for winning at horse races. You know, normal kid stuff.
OK, the pickpocket-- Julius-- is Sir Laurence Olivier, and while it's far from his last role, so much of it
feels
like his last role. He infuses the part with this sense of someone who is going to die
any minute now
and wants one last chance to feel young and alive. He charms our young couple with tales of young romance, including a bit about kissing under the Bridge of Sighs in Venice while church bells playing. It's Sir Laurence Olivier, so you better believe he sells the hell out of that.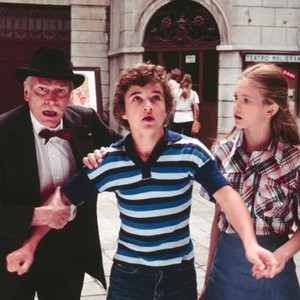 Meanwhile, Lauren's mother (played by Sally Kellerman) DOES NOT APPROVE. She thinks this French Boy is a bad influence (and, well, she IS right), and bans Lauren from ever seeing him. Lauren does not accept this, and she sneaks off with Daniel. First they use his system for winning at horse races to get some money. They can't bet on the horses themselves, so they get Julius to help them. TWIST: Daniel's system actually doesn't work, and the horse he picked loses. TWIST BACK: Julius is all, "I bet on a different horse on a whim, here's a lot of money". TRIPLE TWIST: Julius is just a pickpocket who stole that money and all his romantic stories are bullshit. But that happens later, and it's too late, because since the kids have the money, we're off to the races.
Wait, no-- we already were at the races.
We're off to Venice!
Yes, the kids actually create an international incident by sneaking into Italy with an old pickpocket. They get to Venice and still plan to kiss under the Bridge of Sighs while the bells are ringing, despite learning that all of Julius's stories of young romance were a pack of lies. Because that part doesn't matter-- they were still good stories. So they plan on doing that, but have to evade Interpol until sunset because, yeah, a known felon crossed a border with two minors. Julius eventually makes a distraction and lets himself get caught so the kids can get away, rent a gondola to the Bridge of Sighs at sunset, assault the gondolier when he won't go under it (because they only paid him enough to go TO the Bridge of Sighs). But it's OK, because they manage to have that perfect moment of kissing under the bridge as the sun sets and the bells play and it's beautiful and they'll know that they'll be together forever.
Except then they're caught and dragged back to France. And Lauren's family is all, "We are going back to America away from that horrid French boy". They get to have one last awkward goodbye in the driveway, and make that promise they have no intention of keeping to stay in touch. Because of course they won't.
You can imagine, thirty years later, they both found each other on Facebook, had one exchange of, "Man, crazy times!" and then only occasionally liked each other's cat pictures. Because that's probably what happened.