I'm very excited about this excitement, and I know many readers have been patiently waiting for the next installment of the Maradaine Constabulary. I'm sure
The Imposters of Aventil
gave you a bit of a Satrine and Minox fix, but you're waiting for the real thing. And I
am
sorry that
Way of the Shield
has delayed the release of
A Parliament of Bodies
for a few more months, but as you can see below, there's a very good reason for that: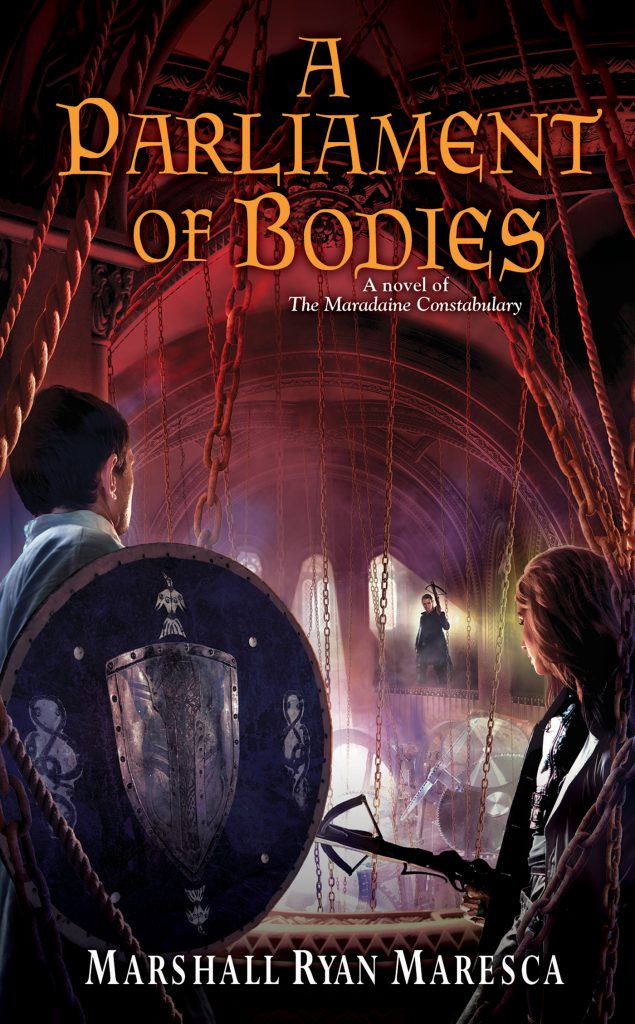 Yes! Satrine and Minox will be teaming up with Dayne from The Maradaine Elite series. It's an exciting and thrilling story of our heroes racing the clock(work) to save lives, and one again Paul Young's incredible work has given us something fantastic and evocative. You may have to wait until March 2019, but this taste should get your gears turning.
---
The city of Maradaine is vexed by the Gearbox Murders: a series of gruesome deaths orchestrated by a twisted mechanical genius. With no motive and no pattern, Inspectors Satrine Rainey and Minox Welling— the retired spy and untrained mage— are at a loss to find a meaningful lead in the case. Until the killer makes his most audacious exhibit yet: over a dozen victims in a clockwork deathtrap on the floor of the Druth Parliament.
The crime scene is a madhouse, and political forces conspire to grind their investigation to a halt. The King's Marshals claim jurisdiction of the case, corruption in the Constabulary thwart their efforts, and a special Inquest threatens to end Minox's career completely. Their only ally is Dayne Heldrin, a provisional member of the Tarian Order, elite warriors trained in the arts of protection. But Dayne's connection to the Gearbox Murders casts suspicion on his motives, as he might be obsessed with a phantom figure he believes is responsible.
While Satrine and Minox struggle to stop the Gearbox from claiming even more victims, the grinding gears of injustice might keep them from ever solving these murders, and threaten to dismantle their partnership forever.